Secure Power from General Cabins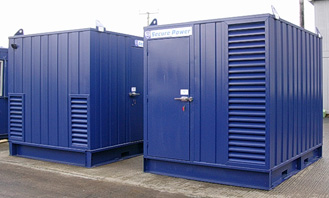 Secure Power incorporates turn key generator sets fitted into sound proofed steel enclosures to achieve attenuated sound that is acceptable for standby and 24hr running within close proximity of work and residential situations.
General Cabins manufacture the steel enclosure and will install a generator set with the required attenuated sound level to your prime time or standby applications. A range of specifications are available to give you a tailored made turn key product for generators up to 5,000kva. We also manufacture UPS (unlimited power supply) enclosures and will welcome your enquiries
With state of the art machinery we press and form all the required profiled sheets and steel sections and this gives us great versatility to manufacture purpose built units.
Range of specifications includes:
Build to Lloyds Registry ISO Shipping Standard
Bunded floor
Emission and water drains
Secure access doors with internal fluorescent panic door release
Removable panel
Fork pockets
Fuel tank with high/low level alarms
Automatic standby/mains switch-over
Emergency back-up lighting
Consumer board and safety sockets
Remote management via modem control
Automatic oil top up
External or internal exhaust
Cable and tool storage
Click to Zoom Image: